Keep your wood moving
Increase your bottom line profit with the most reliable pull-through delimber in the market. Fact.
Low maintenance, easy to operate, versatile and highly productive – Harvestech has developed a reputation for extremely safe and affordable log processing equipment of the highest quality.
Harvestech machinery is in use throughout New Zealand, Australia and Europe.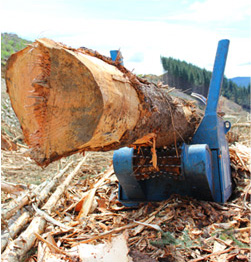 Latest News
Harvestech change of ownership
Harvestech has been acquired by the Trinder Group.
From the beginning of November 2018 all "Harvestech Delimber" sales and services will be managed by Trinder Engineers.

MJ Logging LTD – Matt Jordan and crew in Geraldine Forest
Left to right Garth Turner, Dan Adams & Matt Jordan. South Canterbury base contacted to Blakely Pacific Ltd. Work is in the Geraldine forest. MJ Logging recently purchased a new Harvestech S3000 delimber.